In honour of Black History Month we will be recognising notable contributions to the STEMs from people of African origin. Today we recognise Dr. Seyi Oyesola.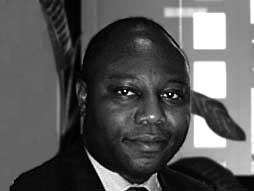 Born in Nigeria, Dr. Oyesola is a medical physician best known as the co-inventor of "Hospital-in-a-Box", a mobile operating room. He completed High School in Cleveland (USA) but returned to Nigeria to earn his medical degree. He completed his Bachelor's of Science degree and medical degree from the University of Lagos(Nigeria) before migrating to the UK to specialise in Anesthesia and Critical Care. During his stay in the UK, he was appointed consultant at Medway Maritime Hospital and also served as senior lecturer at the Imperial College School of Medicine.
Dr. Oyesola is a member of the Royal Society of Medicine, Intensive Care Society, Association of Anaesthetists of Great Britain and Ireland and Royal College of Surgeons (Anaesthesia) Ireland. His greatest accomplishment came by way of collaborating with an English engineer to develop "The CompactOR", commonly referred to as "Hospital-in-a-Box". This is a solar powered portable operating theatre fully fitted with a defibrillator, EKG monitoring, suction, an anesthetic machine, and surgical lighting. It serves as a life-saving operating room which can be quickly transported and set up in remote areas of Africa. The award-winning invention was launched in 2007 and is in use in rural areas of Africa
Dr. Oyesola is currently the Chief Medical Director of the newly-opened Delta State University Teaching Hospital (Nigeria) and director of Practice Ventures (Britain), a company that specializes in the supply and maintenance of high-tech medical equipment to African hospitals.  He continues to be involved in medical education, simulation and medical device development. He personally believes that "In serving a cause greater than self, a team is able to produce results in a way that the whole is greater than the sum of the parts".