Day 24: Dr. Bartholomew Nnaji
In honour of Black History Month we will be recognising notable contributions to the STEMs from people of African origin. On Day 23 we recognise Dr. Bartholomew Nnaji.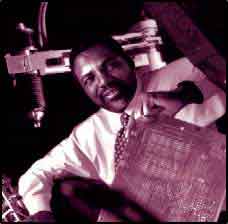 Born (1956) in Nigeria, Dr. Nnaji is a research scientist best known for is advancements in the field of robotics and Computer Aided design (CAD). He is currently Chairman and CEO of Geometric Power Limited (GPL) which he set up in Abuja (Nigeria) to contribute towards the production of stable power supplies. He grew up experiencing the excitement of creation in Nigeria, where he built carts out of metal cans and wood. Fast forward a few decades and he now holds a BS from St John's University in addition to an MS and PhD in Industrial and Systems Engineering from Virginia Polytechnic Institute and State University (USA). He also holds a certificate of post-doctoral studies in intelligence and robotics from MIT
Dr. Nnaji is a tenured professor of Computer Integrated Manufacturing and Robotics in the Department of Mechanical and Industrial Engineering at the University of Pennsylvania. His research has contributed to over five books and 100 technical articles. His career has seen him serve as professor and director of automation and robotics laboratory at the University of Massachusetts, as the ALCOA Foundation professor in manufacturing engineering at the University of Pittsburgh, as Minister of Science and Technology and as Minister of Power and Steel in Nigeria.
In addition to his achievements, Dr. Nnanji is an internationally-regarded consultant and speaker on robotics, computer aided design (CAD) and automation. He has been awarded Outstanding Young Manufacturing Engineer Award by the Society of Manufacturing Engineering,  Distinguished Scientist Award by World Bank IMF Africa Group, Baker Distinguished Research Award and Commander of the Order of Niger — a national honor awarded by the Nigerian President.
Currently he is the founder and director of the National Science Foundation Center for e-Design and realization of mechanical products and systems. He continues to work towards
Sign up for our free newsletter and stay informed