Day 20: Dr. Sossina M. Haile
In honour of Black History Month we will be recognising notable contributions to the STEMs from people of African origin. Today we recognise Dr. Sossina Haile.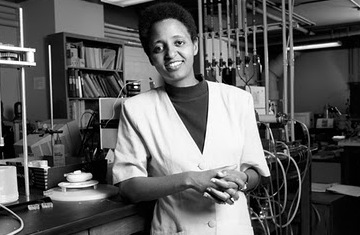 Born (1966) in Ethiopia, Dr Haile is a Materials Scientists best known for research into the ionic conduction of solids and the creation of a new type of fuel cell. She moved to the USA during the 1970's Ethiopian coup when her father's life was threatened. Following her primary and secondary education, she completed her undergraduate degree at Massachusetts Institute of Technology (MIT), MS from University of California (Caltech) and then returned to MIT for her PhD in Materials Science and Engineering. Her bright career has seen her work at the  Max Planck Institute for Solid State Research in Stuttgart (Germany), as an assistant professor at University of Washington and currently as Professor of Materials Science and Chemical Engineering at the Caltech.
Dr. Haile's research has contributed to over 130 publications within her field. Her contributions have been awarded by the NSF National Young Investigator award, Chemical Pioneers Award and the Coble Award from the American Ceramics Society. She was also awarded the American Competitiveness and Innovation (ACI) Fellowship in recognition of her "timely and transformative research in the energy field and her dedication to inclusive mentoring, education and outreach across many levels." She also served briefly as a visiting professor at the African University of Science and Technology in Abuja, Nigeria.
In addition to her research, Dr. Haile has served as   a principal editor for the Journal of Materials Research, member of the National Materials Advisory Board  and   has co-organized several MRS symposia. Her more recent interests include solar-driven water and carbon dioxide dissociation by thermochemical processes and she had a recent TEDx talk on the subject. .