In honour of Black History Month we will be recognising notable contributions to the STEMs from people of African origin. Today we recognise Dr. Ave Kludze.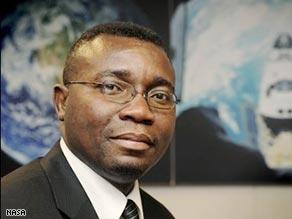 Born in Ghana and a product of Adisadel College; Dr. Kludze is an internationally known rocket scientist. His love for scisnce started at an early age and he was known by his parents to occasionally take apart any electrical appliances he could get his hands on. After completing his primary and secondary education in Ghana, he travelled to the USA to complete his BSc in electrical engineering at Rutgers University. After completing his MA at John Hopkins University and his PhD in Engineering, he took up roles as a Complex systems engineer, Designs expert and eventually Senior NASA spacecraft systems engineer. During his time at NASA, he is known tohave commanded and controlled a spacecraft in orbit.
Dr.Kludze served an illustrious career at NASA with some accomplishments including contributing to the development of the Extravehicular Activity Infrared (EVA IR) camera for space-walking astronauts and managing the Integrated Design Centre. Prior to this, he designed the Human Locator System which uses a combination of nanotechnology, satelite communications and GPS to locate a subject anywhere in the world. His work has contributed to multiple publications and earned him several awards in recognition of his good work. In 2002 he was honored at the Second Biennial Adisadel College Excellence Awards for his excellence.
In addition to his academic excellence, Dr. Kludze believes that incorporating technologies that are suitable to the African continent is keen to its development. To this end he is interested in the development of various solar powered technology and appliances aptly designed to meet the continents needs.